Take Your Tesla to the Next Level
Airvue® levels up your driving experience so you can safely use your smartphone hands-free.
A Design Elon Would Love
At least we think so! This is the first car mount designed not only to fit perfectly into the latest Teslas, but actually looks like it's an original part of the car. The anodized solid aluminum arm perfectly matches the form and finish of the Tesla touchscreen housing.
Face It, You're Not Always Using Your Phone Safely
It's tempting to look at your messages while on Autopilot or at a stop light, but it's not safe!
Hands-Free, Safer for You and Everyone Else on the Road
Distracted driving is no joke! Airvue keeps your hands off your phone and all your voice-activated features and hands-free apps safely in view.
Avoid that Ticket
Using a hands-free mount is the law in every state in the US and virtually every other country around the world.
STATES WHERE DRIVERS NEED A HANDS-FREE PHONE MOUNT
Souce: ncsl.org 2020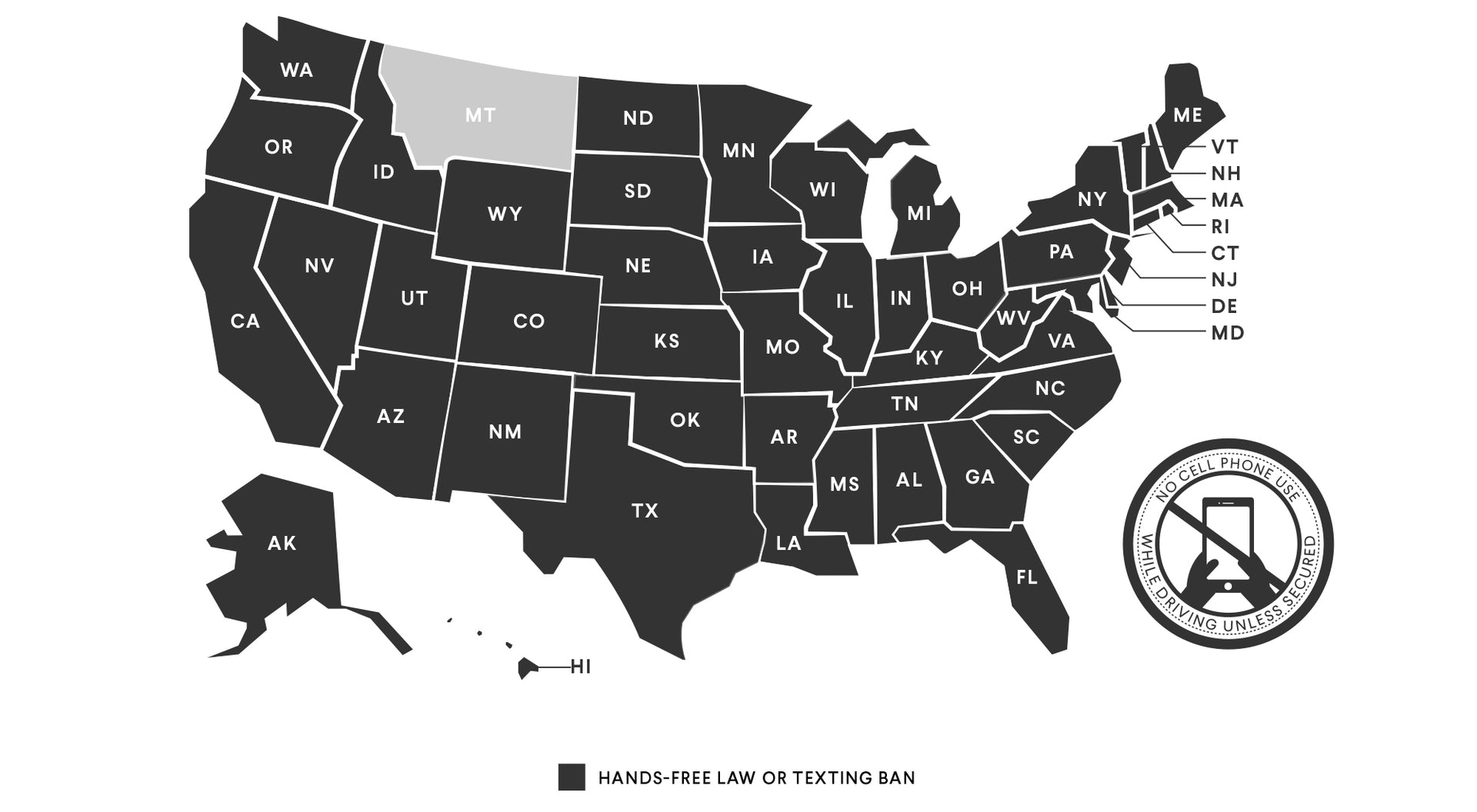 More Apps
Great apps like Waze, Alexa, Soundcloud, and Apple Music aren't available on the Tesla touchscreen, but with Airvue they're right at your fingertips.
New S, X and Cybertruck Compatible
Yay! The latest Model S, X and Cybertruck has a floating screen, which makes it Airvue compatible.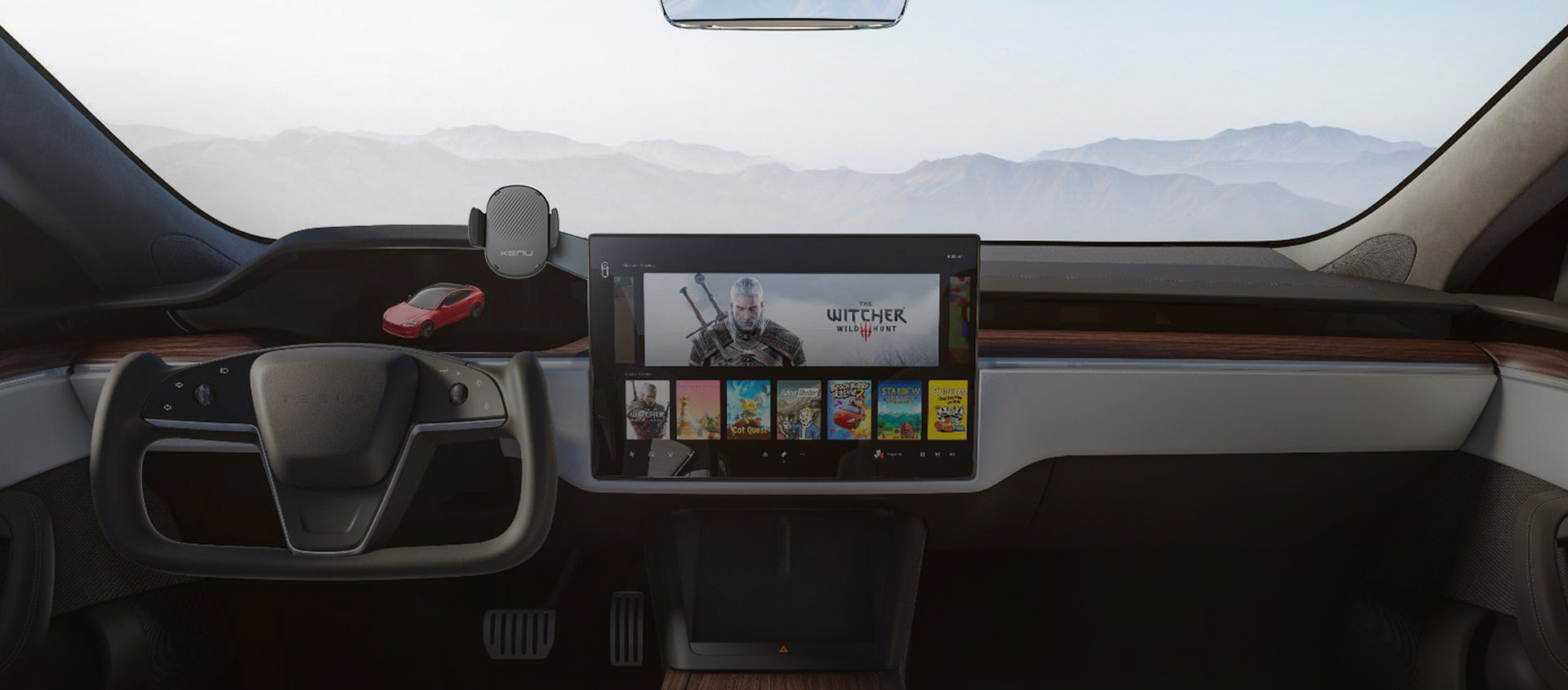 Easy Installation
Each mount includes a handy installation tool for perfect placement every time, on either the left or right side of the screen.
The 3M adhesive provides a rock solid, heat and vibration resistant hold. It'll also come off (see FAQ's) without damaging the touchscreen.
3M Accelerated Life Testing
Solid Engineering and Design
Airvue uses a single piece of stamped aluminum and
a post CNC process to create an elegant radius and profile.
Airvue utilizes Kenu's patented grip, which uses the same spring-loaded stainless steel rods, as our very first Airframe® car mount invented in 2013.
Phone Compatability
Apple
iPhone 13 Pro Max | iPhone 13 Pro | iPhone 13 | iPhone 13 Mini |  iPhone 12 Pro Max | iPhone 12 Pro | iPhone 12 | iPhone 12 Mini |  iPhone 11 Pro Max | iPhone 11 Pro | iPhone 11 | iPhone Xs | iPhone Xs Max | iPhone XR | iPhone X | iPhone 8 Plus | iPhone 8 | iPhone 7 Plus | iPhone 7 | iPhone 6s Plus | iPhone 6s | iPhone 6 Plus | iPhone 6
Case required for use with iPhone SE | iPhone 5s | iPhone 5c | iPhone 5
Otterbox cases | Lifeproof cases | Mophie cases | Tech 21 cases | Apple cases
Samsung
Galaxy S21+ | Galaxy S21 | Galaxy S20+ | Galaxy S20 | Galaxy Note 20+ | Galaxy Note 20 | Galaxy Note 10+ | Galaxy Note 10 | Galaxy S10+ | Galaxy S10 | Galaxy Note 9 | Galaxy S9+ | Galaxy S9 | Galaxy Note 8 | Galaxy Note 5 | Galaxy S8+ | Galaxy S8 | Galaxy S7 | Galaxy S7 Edge | Galaxy S6+ | Galaxy S6 | Galaxy S5
Otterbox cases | Lifeproof cases | Mophie cases | Tech 21 cases | Samsung cases
Google
Pixel 6 | Pixel 5 XL | Pixel 5 | Pixel 4 XL | Pixel 4 | Pixel 3 XL | Pixel 3 | Pixel 2 XL | Pixel 2 | Pixel XL | Nexus 6P | Nexus 5x
Otterbox cases | Lifeproof cases | Mophie cases | Tech 21 cases | Google cases
Details
Materials
Polycarbonate, Aluminum, TPE, Zinc, Stainless Steel, Silicone, Acrylic foam
Dimensions & Weight
164.2 x 47.5 x 27.5 mm (WxDxH), 86g