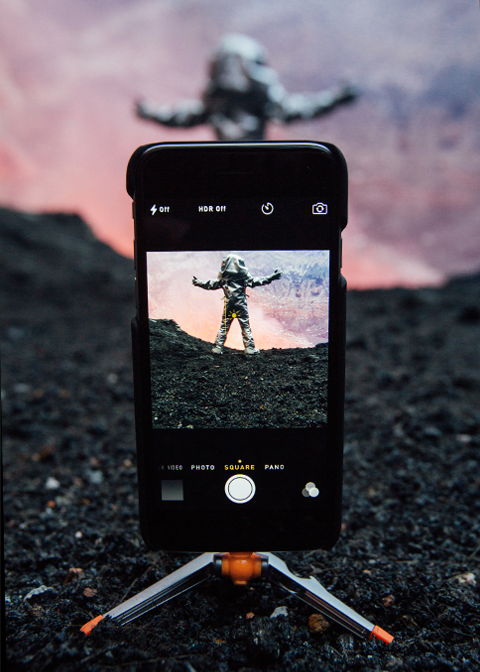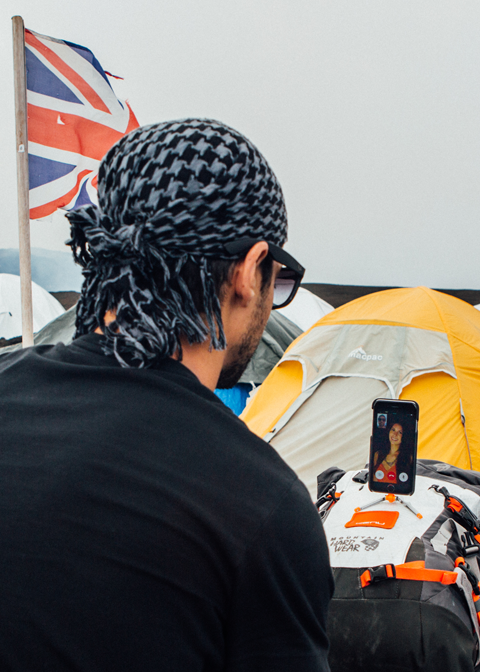 ---
Explorer and filmmaker Sam Cossman recently documented his descent into Marum Crater, one of the world's most active volcanoes. It's a place so inaccessible that fewer have visited it than the surface of the moon. In addition to conducting scientific research to better understand how life can form in extreme environments on our planet and beyond, his mission was to capture rare videographic footage of this spectacular place.
Sam used Kenu's Highline security leash and protective case to ensure he didn't drop his iPhone as he captured POV footage while overhanging from a vertical rock wall 800 feet above a lake of molten lava. By using Highline to secure his phone, Sam was able to focus on capturing great footage and to maintain maximum concentration and safety controlling his descent.
Kenu's Airframe+ enabled Sam to leverage his iPhone as a useful pilot aid in the inter-island chopper flight to the volcanic island of Ambrym. The display provided a horizon/terrain gauge which was an essential tool in guiding the dangerous approach to landing through thick volcanic gases at the top of the volcano.
Stance allowed Sam to capture impromptu moments from the rocky super heated terrain near the shore of the lava lake. He also found it useful for everything from Facetime calls from base camp to watching videos on the long flight to Marum Crater.
FROM TOP LEFT: 1. Sam captures a photo of his death defying journey while descending 400 feet above the lava, with his iPhone safely tethered to his harness with Highline 2. Stance positions Sam's iPhone in the volcanic ash on the shore of the lava lake 1200 ft inside the volcano. Fewer people have visited this extreme location than have been to the surface of the moon 3. Sam snaps an impromptu photograph at the edge of the crater and captures a rare strombolian eruption from a newly formed volcanic vent 4. Chopper flight from Vanuatu's capital island of Efate to the volcanic island of Ambrym 5. Sam using FaceTime at basecamp with Stance 6. Sam using his iPhone with Highline before take off in the chopper.
ABOUT SAM
Sam has always had a taste for adventure, but after leading an expedition to one of the most dangerous places on the planet, he decided to quit his job and dedicate his life to exploration. Sam is re-defining exploration by leveraging technology and innovative products to go places previously too dangerous for humans. As Sam explores the world's most extraordinary places, he shares his experiences through the latest technology, from wearable tech emotion sensors to flying drones to 360-degree cameras, bringing all of us along with him for each heart-pounding, exhilarating cliff climb and volcano dive. He hopes that his adventures inspire others to believe that they too can accomplish the extraordinary.
Photos: Conor Toumarkine
---